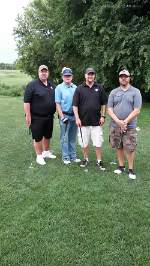 Join us for the 2022 annual MBCF / MBA Scholarship Scramble on Monday, September 19th at 11:00am at Oak Hills Country Club.  This is your chance to support our Millard area students with college expenses. Proceeds are donated to the Millard Business Community Foundation Scholarship fund which provides six $1,000 scholarships to high school seniors each year.

The Millard Business Association and the Foundation award their scholarships to a deserving senior from each of the following Millard High Schools: Millard North, Millard South, Skutt Catholic and Millard West plus. The 5th & 6th scholarships, "We are All Patriots" are given in remembrance of the Millard South Tragedy and is awarded to a Millard area high school seniors who has shown success in overcoming adversity.
You'll want to be part of this fun and rewarding networking opportunity. Become a sponsor, get a foursome rounded up, or sign up on your own but don't miss one of the most enjoyable days of the business year! We are always looking for pin prizes and raffle prizes too, so get your company or organization the publicity it deserves during this exciting event.
For additional information, contact Scholarship Scramble Committee Co-Chairs Tony Pofahl 402-995-1803 or Matt Bosley 402-212-4665.
Registration Form
Complete the registration form below or download and mail or email the printable version of the registration form below.